74 Harley Street
Susan Mayer of 74 Harley Street lives in Kansas City with her four boys. She handcrafts her one of a kind jewelry pieces using her vintage finds. Her artistry reinvents overlooked lockets, shoe clips and other treasures from days of old into new pieces with a fresh and beautiful perspective.  Click below to see more of Susan's pieces.
Agelio Batle
San Francisco artist Agelio Batle is committed to making art from materials that are part of daily life. Agelio casts various objects in graphite. And his functional art invites users to access their imagination and discover the possibilities.
Ceramica Botanica
Susan from San Antonio, Texas creates brightly hued and boldly patterned ceramic wares. All her pieces are made from raw clay to finished dish, vase or bowl. Faraway places and the small beauties that are all around us inspire Susan. Susan's pieces delight and bring joy to the everyday. Come in to Spinach Home and see Susan's creations.
Erin Flett
 Erin's textiles, which emote a fresh and modern viewpoint, are hand printed in an old, Maine cotton mill. Erin's artistry has been recognized in O Magazine, Simple, Country Living, Better Homes and Garden, and HGTV Magazine. And she even made Oprah's list of favorite things. Erin has roots in Kansas, where she and her husband both graduated from the University of Kansas.  Click the link below for more of Erin's products.
Fiona Howard
Fiona is a British designer known for creating delicious collections of kitchenware employing traditional skill to create a fresh look and feel. Her work includes an array of exquisite palettes in hand drawn patterns. Fiona's inspiration comes from a love of nature and an ability to look at life with open eyes.
Indaba
Indaba in African means "a gathering of people." Indaba curates their collection from handcrafted pieces around the world. And they strive to inspire and delight.  Click below to see more of Indaba's products.
Liv Interior
Liv Interior is all about the art of mixing styles. A subtle mix of Asian and Scandinavian styles results in striking and unique textiles. Liv, which means "life" in Danish, will revitalize your interiors. Click below to see more of Liv Interior's products.
Paula Queen
Pyar means love in Hindi, and it was love that brought Paula Queen, to India. Inspired by the luxurious fabric and intricate beading of her own wedding sari, Paula knew she had to find a way to translate everything she loved and bring it to market. It was this inspiration that catapulted her into designing and producing luxury home goods. Click below to learn more about Paula's pillows.
Rebecca Graves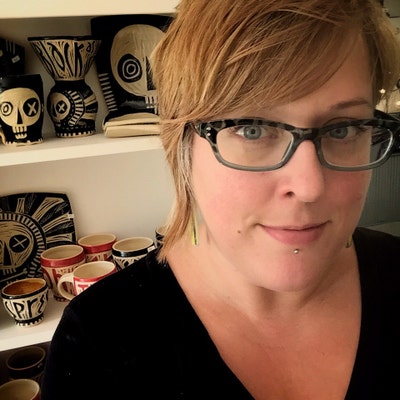 Rebecca Graves utilizes her graphic design, printmaking and textile background in her useful ceramics. Rebecca's sense of humor shows through the rich, textural surfaces of her pottery inviting people to smile and touch. Rebecca's studio is in the Lakes Region of Indiana where she works to create high quality, functional and creative pottery.
Seawicks
Michael and Cara imagined Seawicks during a long winter in their 1920's cottage in Edgecomb, Maine. With glimpses of the water, the sound of lobster boats pulling their traps and the scent of sea, Michael and Cara created an array of hand poured soy candles that are inspired by life on the coast.
Sharon Sharpe
In Texas, Sharon Sharpe hand cuts, paints and initials each fence fish.  Each fish has a wire hook on the back. Due to the handmade nature, each fish is unique. Click the link to learn more about Sharon's fish.
Trace Mayer
Museum Bees are made from recycled antique picture frames, usually from the late 1800s.  The frames include gilded ornaments such as horses, dogs, insects, and curiosities. Museum Bee creator, Trace Mayer, signs every Museum Bee with the initials of the current Kentucky Derby winner. All are original works of art made in Louisville, Kentucky. Click below for more information on Trace's Museum Bees.
Vaillancourt
The Vaillancourt story began over 30 years ago with Judi, an artist and Christmas historian, who decided to recreate the 19th century art form. The chalkware figures are formed from historical chocolate molds. Each of the pieces is then hand painted. Vaillancourt is proud to be American made and family run.